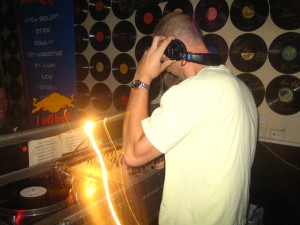 It's the fading hours of the Labour Day long weekend in Canada as I write this, and while it wasn't a three day weekend here in Melbourne, I still had plenty of reason to recall the Canadian holiday. As the last long weekend of the northern summer, Labour Day has a lot of special memories – for me and doubtlessly for many of you. Ten years ago I was a new uni graduate working behind the counter in a record store, putting every spare dollar I had towards vinyl. One of my jobs was to take the new shipments each week and record samples of their best bits for uploading on to the store website, and one of the side effects of this job was being tapped into the mainline of quality tunes as they came out each week. Alongside colleagues Marsh, Meg and Jules we spent hours listening, recording, and swapping back and forth.
Somewhere along the way I decided to start playing in nightclubs, and having played a few warehouse parties and weekday evening sets I was ready to throw my hat in the ring for a proper residency. As luck would have it, a local trance promoter was holding a mix contest to select their next resident. The mix I put together won me that residency, and was the stepping stone to my being invited to run my own weekly events there six months later. The club was called Altitude (now Eden Bar) at the corner of Russell and Bourke streets here in Melbourne.
Ever since then, the recording of that mix has been sitting on my hard drive as "Mix 020 – Labour Day In Canada (Deliverance Demo)". This past weekend I went for a run and, recalling it being the holiday up north, I dragged the mix back on to my phone. It was a fantastic listen. As a slice of mid-noughties 130BPM+ progressive, techno and trance I think it still holds its own, and with a decent set of headphones it's an excellent reminder of what well-pressed vinyl records can sound like. It was mixed live (and in fact was only supposed to be the test run for the proper mix to be recorded the following night).
As a mix it's pretty banging and well removed from what I'm playing these days. As such it's not a part of my podcast, but for nostalgia's sake I've uploaded it to our server. Those keen to for a trip down memory lane can give it a go here: (right click to download).